Sometimes, life is utter chaos. My calendar is constantly packed with work and personal obligations, and the to-do list is never-ending. I need to be intentional about keeping self-care, hobbies, and contact with loved ones a part of my routine. For example, one of my favorite intentions is my Sunday afternoon phone calls with my parents. I moved away from my home state of Kentucky in 2015 for a job. While I've since made a couple of professional transitions, Saint Louis, Missouri, has become home. With that, I don't get to see my family in person as often as I would like, but the weekly phone calls are a nice way to stay in touch. I'll call my mom's cell phone, she'll put it on speaker, and then we'll spend the next 30 – 45 minutes updating each other on what's been happening in our lives. Mom will give me updates on my grandpa's health and share her countdown toward retirement. Dad will share his adventures with his friends at the golf course and his next idea for tricking out his golf cart. I love to hear all the news, but my favorite is when they ask, "How's the house coming along"? Or "What's your next project"? To which, I'll share the latest hoop we've had to jump through regarding our remodeling process or the next nook of our home that will get a makeover. Our basement remodel has been an adventure that continues to throw us curve balls, but I'm always making plans for my next DIY project. My parents are a couple of my biggest supporters of my DIY passion and they always provide me exactly what I need, whether that be a listening ear, advice, or even help grow my workshop inventory. 
DIY is by far my favorite hobby and has become a personality trait. As the end-of-year holidays are fast approaching, I've been reflecting on my DIY accomplishments in the last year – the failures, the successes, the new tools I've been introduced to, and the new skills I've learned along the way. I'm thankful for these DIY experiences, but I am most grateful for the people who have supported me in my DIY journey. Every project I tackle is a reminder that doing it myself doesn't mean I'm doing it alone. DIY and home improvement are my niche and I find that there are many lessons I've learned through my DIY adventures that translate into my personal and professional life. The concept of reflecting on a completed project to acknowledge your own work as well as the support that others provided can be translated to any life experience and can be a powerful way to practice gratitude. 
Take some time to think about your life over the last year and who was there to support you through all of life's adventures – the good, the bad, and everything in between. I mentioned that my parents were just a couple of people in my circle of support and that they always provide the kind of support I need each time that we connect. I have many folks that make up my support system. Each of them provides me with a different kind of support than the other. According to licensed clinical social worker Clare Stupinski, there are five different types of social support – emotional, informational, tangible, affirmational, and belonging support.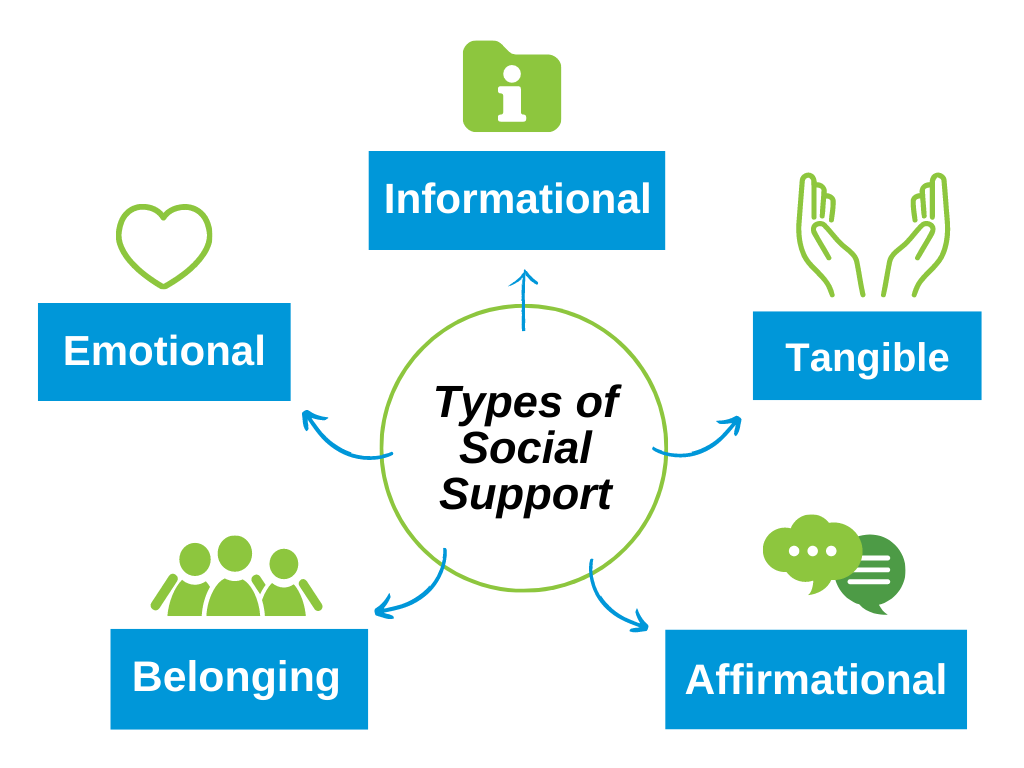 Emotional Support – Who was there when you needed someone to vent to? Who is there to help keep you grounded when your emotions go haywire? Emotional support comes from someone that will accept and understand you, calm your fears, and someone you rely on. We may get emotional support from a variety of folks in our lives. Depending on the circumstances, we may go to different people for what we need at that moment. For example, when I need to vent my frustration with a project not going according to plan or share my annoyance with the next hurdle we need to jump through during construction, I rely on my husband to be a listening ear and to be sympathetic and understanding. As partners in life and home improvement, I get to provide that emotional support back to him.
Informational Support – When you didn't know how to accomplish something, who was there to provide the information, the instruction, or the resource you needed?  You don't need an emotional connection to someone to be supported. Informational support comes from any means of receiving supportive, positive, information that fosters intellectual growth. Like emotional support, informational support can come through several avenues. In fact, informational support can come from someone you've never been formally introduced to. I learn some new things during every project. I've learned some skills through common sense and trial and error. However, I usually rely on people with more experience than me to teach me how to do something. During those rare times I have the pleasure of working on a project with my dad, I'm provided hands-on training and in-person instruction. Woodworking runs in the family, and it's a joy to pay homage to my paternal grandfather, who has since passed. I also follow fellow DIYers on Instagram for inspiration and tutorials on using a tool or technique that I'm less familiar with. YouTube videos serve as helpful how-to's as well. 
Tangible Support – Who stepped up when you were overwhelmed and needed someone to take something off your plate? Who was there to provide support when you just needed equipment, a resource, or supplies to finish a project? Tangible support is practical and often comes in the form of service, resources, or favors. My tangible support comes in many forms, but my loved ones genuinely know the way into my DIY heart. For something as simple as needing an extra pair of hands, my husband is regularly the person I ask to "hold that board" or "can you help me lift this"? While doing home improvement projects myself is often cheaper than hiring out the work, tools and supplies are not cheap. My preferences for birthday and Christmas gifts have changed dramatically over the last couple of years. My wish list includes gift cards to home improvement stores and the newest tool to add to my workshop and elevate my DIY game. My loved ones do not disappoint in this regard. I just celebrated my birthday at the end of October. My parents sent me a gift card to Home Depot, a handwritten note that shared well wishes for another year around the sun, and a heartfelt "We can't wait to see your next project!"
Affirmational Support – When imposter syndrome reared its ugly head, who was your cheerleader in your corner, affirming how amazing you are? Affirmational support occurs when you feel respected, valued, and recognized. Being recognized for our accomplishments and complimenting others is crucial for maintaining our motivation. I have a group of girlfriends that have become my hype women. While we've been friends for years, professionally and personally, our relationship grew exponentially during the pandemic. To stay connected and get some exercise, we instituted a monthly 5k walk at local parks and neighborhoods together. While social distancing is no longer necessary, more than two years later, we are still scheduling our monthly walks. Our text group thread is nothing but hyping each other up, congratulating each other on personal and professional milestones, and continuing to make sure that our group of strong, independent women know their worth and how truly amazing we all are. They always share how impressed they are with my latest home improvement project. I've even helped provide support or ideas for them as they dip their toes into their DIY projects. The words of affirmation are appreciated but asking for advice as if I'm the expert is even more affirming.

Belonging Support – Who are your people, the community with which you feel connected and provide a sense of belonging? Belonging support most often relates to the various social circles or community forums we are a part of. For example, I am a member of a sorority. While I joined as an undergraduate student, the connections I've continued to develop and the network that has grown from my involvement as an alumni member helped me find my community when I moved to Saint Louis more than seven years ago.  This support can also be formed in a running group or a place of worship. Ultimately, your community could be made of a variety of individuals, but you likely have one commonality, whether that is membership, faith, or a hobby. 
No matter the kind of support these people provide us, these are the ones to ensure that we never feel like we are walking through life alone. It's important that we express our gratitude for the support they've provided us.
The CaringBridge community shares that gratitude is "an emotion that can connect us with others or to a specific purpose and can motivate us in our everyday lives." Giving and providing social support and expressing and receiving gratitude should be on a continuous loop as relationships are built and develop over time. After identifying those who have supported you over the last year, consider how you might express your gratitude. The ways to share your thanks can be as unique as the individual you would like to say it to. Use your creativity and your knowledge of the individual to personalize your message of thanks. You could consider the following ways of expressing gratitude.
Write a Thank You note. I love sending handwritten snail mail to brighten someone's day. 
Tell them how much they mean to you. This can feel awkward sometimes but having a genuine conversation with someone can solidify that relationship and open those bonds of trust that can provide even more support in the future. 
Spend time together. For some, dedicating time and attention to a loved one is a more meaningful thank you than any words expressed ever could be. 
Pay it back or pay it forward. Your relationship with this person is built on support. A healthy relationship is mutually beneficial. However, some may request that instead of paying them back, they ask you to pay the kindness forward. 
Simply say thank you. These are two simple words, but too often, they go unsaid. 
As an organization, we want to thank you for being a part of our community and supporting us as we work to provide thought-provoking and stimulating learning experiences. We're grateful for the work we're able to do and the wonderful organizations we're able to partner with. If your organization is on a mission to be better how can we help support? Email info@beingplaid.com to get in touch with a member of our team.